This last Tuesday I called my service guy around 1130 (Andy Fischer) and asked how much for a tranny flush. He said $200. I say cool but I only have a about 2 hours to spare and I dont want to drop my truck off. He says bring her in and we will be done in no time. NOt to mention I got up close and personal with the '08's and a few 350z's.
Girl up on the rack etc ..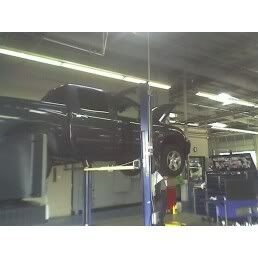 So, Andy talked me into a radiator flush and pressure test for another $100. I figure WTH. Not only would I have to buy the stuff but I cannot dispose of the old fluid and they will pressure test the system.. So, $300 plus tax and my tranny and radiator are happy.
Oh, and I got a free wash too..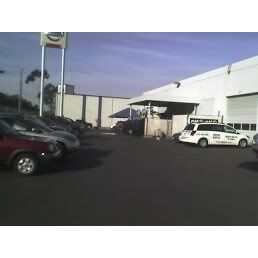 Notice anything missing from my truck?
My stubby antenna! Car wash broke it off and he had to order the part to mount it on. Should be here Monday. Andy/Mossy are the best. BTW, I showed Andy my diff cover and asked if that would be a problem if my axle seals failed....He looked at me like I was an idiot. That is service my Titan Bros!
Sorry for the crappy cell phone pics. <img src='
http://www.titanspot.com/Titan/public/style_emoticons/
<#EMO_DIR#>/009.gif' class='bbc_emoticon' alt=':smt005' />