Quote:Skiff, KRH2, and Honeykeeper, It makes me feel good to hear a few people still enjoying their early Titans. I have 102K on my 06 Frontier now. I somewhat regret not trading for a new Titan a few years ago when the market tanked and there was $8K cash back rebate on a PRO4X. But I, too, love my truck!
Another good report....I use 4WD everyday I drive off and on my mountain...the system works well with the flick of a switch...love it!
3-29-05 Born ...4/09/05 Adopted...  SEKC... 4 x 4 Off Road with Big Tow and E-loc...Blizzard...Graphite/Titanium Interior, Popular Package, Bench Seat.

Bilstein front/rear shocks, Deaver Mini-Pak Springs, Total Chaos Shackles, Hellwig Anti-Sway Bar,

Mag-Hytec "Honeypot", HK Rear Axle Vent Mod, Frozen Rotors-Hawk Pads.

In-Cabin Microfilters, ARE Z shell, OEM bug/rock deflector, Lund AVS Ventvisors, OEM mud gaurds, Bushwhacker- notched-Fender Flares, OEM rubber & standard floor mats, Burtman Stainless Steel Titan Door Sills, Black Vinyl Door Edge Molding on front doors and vertical sides of Tailgate, Spoiler Direct Chrome Tailgate Trim, Utilitrac System, OEM Dual Lower Sliding Trays, OEM under-seat-storganiser, Silver Star Ultra 9006 Low Beams, White Night Backup Lights, CT Windshield Sun Reflector, Drawtite Activator II trailer-e-brake control, Super-Z-Winter Traction Cables, Dueler AT REVO Tires-4th set, NISSAN I-POD adapter, Bosch Icon Window Wiper Blades, Bosch Ir Fusion Spark Plugs.



Optima Red Top Battery

 



6 x 10' low bed/rails trailer with E-brakes.

108 year old rebuilt 4,000 lb. road roller/packer.  http://www.titanspot...d+Roller+Packer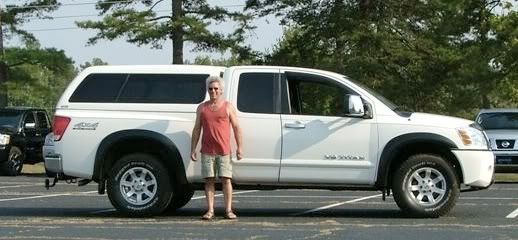 JFK on Climate Change/Energy Revolution http://www.youtube.c...h?v=J8dLHZ6jKFc  
JFK JR. "We Have the Capability and Technology to Eliminate 100% of our Needs for Persian Gulf OIl"
"PEACE TO THE PEOPLE OF ALL NATIONS"
The TRUTH is still EVERYWHERE...I said this ~!!!~